World Lion Day: Conserving the 'King of the Jungle'
Löwe. León. Simba. Løve. Lion. Panthera leo. These are just some of the many names for one of the world's most famous species. Depicted frequently across traditional and modern culture, the Lion is often associated with bravery, courage and royalty earning it the title 'King of the Jungle'.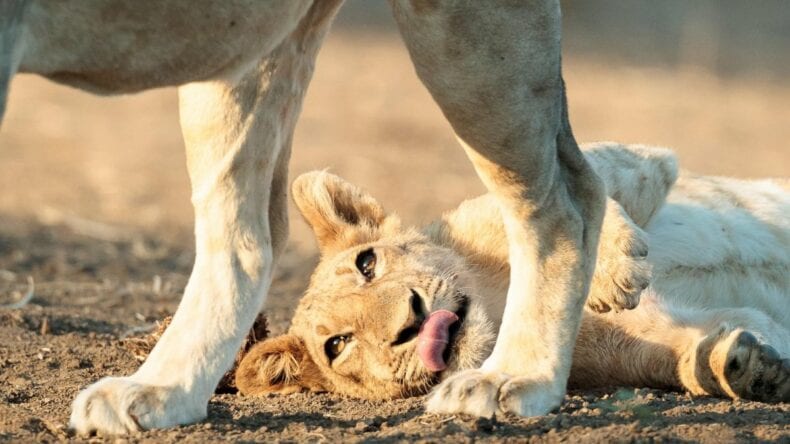 Image credit: Edward Selfe
Yet, this majestic species is in dramatic decline: a century ago, there were as many as 200,000 wild lions in Africa, compared to as few as 20,000 today. Once widely distributed across this continent, as well as Europe and Asia, Lions have now disappeared from more than 90% of their historic range, remaining only in Africa and in one population in India. As such, experts currently classify it as Vulnerable to extinction according to the IUCN Red List of Threatened Species™.
The Lion is an apex predator species, playing a pivotal role in maintaining a natural balance in the wild. The loss of the Lion would not only have significant impacts on ecosystems, but it would also deprive the world of an iconic species. So what is causing this continuing decline?
Lions are under pressure from a variety of forces and long-term trends in how we use natural resources. These include habitat loss and fragmentation (due to human settlements, roads and agricultural expansion), intense human-lion conflicts (resulting in indiscriminate retaliatory killing to protect humans and livestock), extensive decreases in population of prey species, unsustainable trophy hunting (in some areas) and, to a lesser extent, the demand for Lion parts in traditional medicine.
The SOS African Wildlife initiative, funded by the European Union, supports on-the-ground Lion conservation action including activities that address human-wildlife conflicts, improve protected areas management, facilitate land use planning, restore rangelands for prey species, and improve the livelihoods of the local communities.
Much of this work is implemented by passionate and inspiring people dedicated to generating solutions for Lions and communities to live in harmony. In honour of World Lion Day, we present just some of the work IUCN Save Our Species grantees are doing to protect the 'King of the Jungle'.
In Northern Tanzania's Tarangire-Manyara ecosystem, one of the main threats to Lion survival is human-lion conflict due to livestock depredation in the neighbouring pastoralist communities. As known scavengers, Lions here are also susceptible to the poisoning of carcasses. Tanzania People and Wildlife (TPW), is working with local communities to reduce livestock-carnivore conflict by, amongst other things, constructing Living Walls — environmentally friendly, predator-proof corrals that keep large carnivores out of livestock enclosures at night.
TPW implements community-driven conservation programmes across the famous Northern Tanzania landscape, which includes the Ngorongoro Conservation Area. Over the course of the project, TPW aims to conserve habitat and improve landscape connectivity in the region, protecting as many as 900 Lions. The team is working to achieve this by empowering local communities to manage their grasslands sustainably and by organising beekeeping activities with local women to generate household income and protect wildlife corridors.
Meanwhile in the Ruaha landscape in southwestern Tanzania, conflict and carnivore killing levels are extremely high. In addition to depredation on livestock, the conflicts are also driven by a deeper-rooted antagonism as wildlife currently imposes a high cost, but little to no perceived benefit for the local community here.
The Ruaha Carnivore Project (RCP) is reducing the damage caused by Lions in this area by fortifying livestock enclosures and introducing mobile enclosures for pastoralist communities. More importantly, they are also working with the communities to introduce tangible benefits for local residents as a direct result of wildlife presence using a community camera-trapping system across villages.
Community camera-trap officers from each village are employed, trained and equipped to place camera-traps on village land, capture images of wild animals and translate them to points. These points are then converted into benefits for the village, such as education, healthcare and veterinary health services. Through this direct community benefit system, the populations are increasingly motivated to protect Lions and other wildlife.
In Zambia, Zambian Carnivore Programme (ZCP) and Conservation South Luangwa (CSL), are working together to address the threats facing Lions and other carnivores in the Luangwa valley, while ZCP also works in the Greater Kafue and the Greater Liuwa ecosystems. These threats include snaring, illegal trade in their body parts and illegal bushmeat trade of their prey species.
ZCP and CSL are tackling wildlife crime and reducing its impact on the carnivores living within the project area by increasing snare recoveries while leading on snaring and rifle poaching arrests. This is being realised with a team of 65 community scouts and two detection dog units.
Despite being among the least resourced national parks in Africa, the Luengue-Luiana National Park (LLNP) in Angola is home to multiple threatened species, including 10 – 30 Lions, and several small communal settlements. Prey species in the LLNP are currently under pressure from widespread bushmeat hunting by local villagers, who rely on bushmeat trade for survival. Traps set up for hunting reduce the number of prey favoured by Lions and other carnivores, while also maiming and occasionally killing carnivores themselves.
Panthera is working with the local communities to develop community owned and operated wildlife tourism ventures by upgrading park facilities, restoring species habitat, as well as training and employing Community Game Guards to patrol, de-snare and monitor wildlife. This will benefit wildlife, provide jobs to local residents and generate economic opportunities.
In Cameroon, Lions seemed to exist only in the Northern part until recently, when a small group of Lions reappeared in the buffer zone of the Mpem and Djim National Park (MDNP) in the centre of the country. While they roamed the park in the past, the last record of any sighting was in the 1970s. Their sudden reappearance in MDNP has not been without complications for the human population, who now have to learn to live alongside the species and protect their livestock from depredation. Lions have already been attacking livestock and as a result, there have been multiple attempts at retaliatory killing.
With funding from the SOS African Wildlife Rapid Action Grants scheme, Biodiversité Environnement et Développement Durable (BEDD), will translocate the Lions to the core area of MDNP, away from grazing livestock. They will monitor the prey density to assess the possibility of keeping the Lions in the park. They will also work to increase awareness in the park's neighbouring communities and introduce bomas (enclosures) to protect livestock. Their work will help reduce the impact of the lion presence in the short-term, while the park authorities develop long-term plans for the Lion population in MNDP.
Through these ongoing projects, IUCN Save Our Species is setting the pace for stabilising and increasing the population of iconic carnivore species including the Lion. The SOS African Wildlife initiative will continue to support civil society organisations to carry out actions that maintain viable functional populations of carnivores, their prey species and their habitats (wild lands) as they represent the last places that provide essential ecological services and goods for present and future generations.
The SOS African Wildlife initiative is funded by the European Commission's Directorate General for International Cooperation and Development (DG Devco) through its B4Life initiative.