Tanzania People & Wildlife Provides Ongoing Training to 200 Female Entrepreneurs
There is a buzz around parts of the Tarangire-Manyara ecosystem, and it's not just the dozens of new beehives hanging from tree branches around the villages.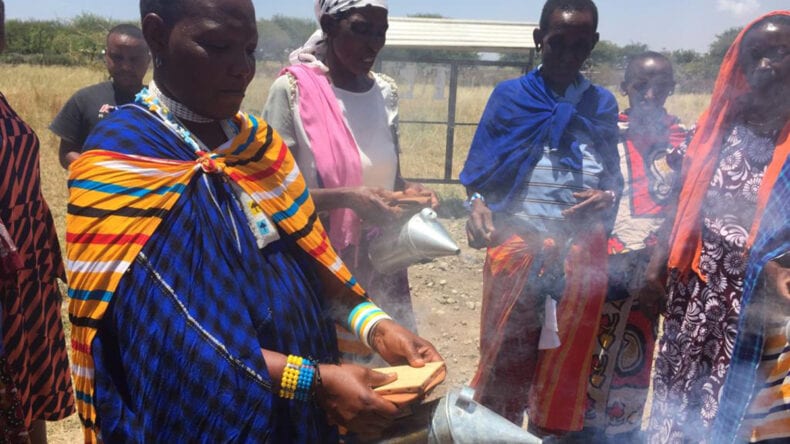 Image credit: Samson Beah
Bees – nature's famous pollinators – are playing another role in the protection of the region's lions, cheetahs, leopards, and wild dogs by helping the pastoralist communities that live alongside them generate new livelihood opportunities. And most recently thanks to the work of IUCN Save Our Species grantee, Tanzania People & Wildlife (TPW), more than 200 members of their Women's Beekeeping Initiative have completed essential training in enterprise management and project supervision.
They are the latest crop of apiculturists from an initiative that was launched in 2013. Recognizing just how intimately connected were the lives of rural women and nature, TPW's parent organization African People and Wildlife (APW) realized there was significant potential for these women to become environmental advocates and protectors.
To begin, new trainees receive extensive instruction on how to interact with bees safely, including wearing protective gear when harvesting honey. Training then progresses to business management and development. To ensure safety when in the field, the women are escorted by a warrior from their respective communities when hanging hives and harvesting honey. The transformation in the communities is profound.
In the past, I would sit in the shade of my hut waiting for my husband to provide. But now I no longer have to wait on him.

Nasinyari Damasi, Women's Beekeeping Initiative Entrepreneur
By providing rural women with ongoing opportunities for skills building and knowledge sharing, the project team helps to ensure that their businesses succeed over the long term providing a new economic activity in the community.
Further, as they gain financial independence, programme participants are able to support their children's education, invest in health care, and increase their status in the community. Indeed, studies show that women are more likely to spend their money on things that benefit children and the community.
Meanwhile, although beekeeping does not directly correlate to reduced Human-Wildlife Conflict, it does directly correlate to habitat protection and improved environmental conditions. Because the habitat benefits so too does the wildlife in the area. As such, the goal is to hang as many hives as possible in key wildlife conservation areas and corridors.
The Tanzanian Beekeeping Act, whereby areas where beekeepers place hives become protected from tree cutting and cultivation, is enabling this. The project team selects trees that are free of ants and other pests. Trees must also be the correct height for bee flight – between 1 and 3 metres in height – and provide the correct amount of sun and shade for hive productivity, meaning Acacia trees are often ideal candidates.
To date, the Women's Beekeeping Initiative has hung more than 1,360 hives in rangelands that support key wildlife species empowering more than 1,260 female entrepreneurs. Currently operational in the Maasai Steppe conservation landscape, the aim is to expand into new areas, and to layer it with the project team's Living Walls and Warriors for Wildlife programmes as well as APW's Sustainable Rangelands Initiative.
Ultimately, this initiative enhances land connectivity and helps to protect big cats through a rather sweet win-win solution.
To learn more about Tanzania People & Wildlife's work funded by the European Union through SOS African Wildlife, you can visit the project profile here.