IUCN and Partners Announce Coalition to Raise Finance for Tiger Conservation
On 29 July 2023 – International Tiger Day, IUCN with its partners announced a coalition to support Tiger Range Countries in achieving long-term tiger conservation with impacts for nature and people from the local to the global level.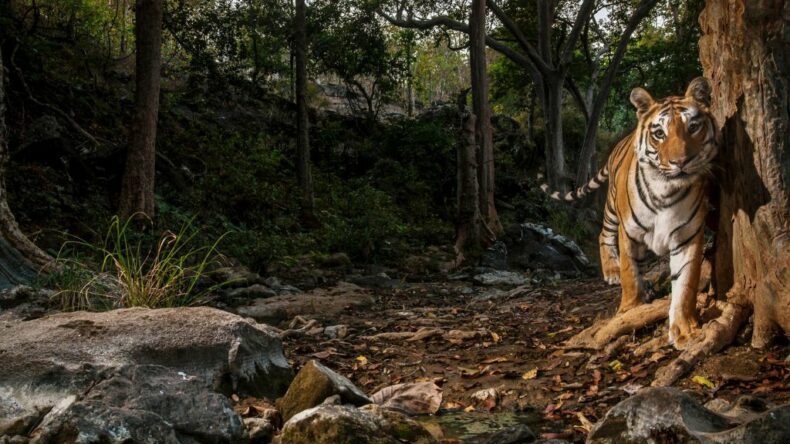 Image credit: Nayan Khanolkar & Mayank Mishra,20
The Tiger Conservation Coalition brings together leading biologists and experts in wildlife crime, human-wildlife coexistence, policy, finance, development, and communications with unprecedented alignment on achieving tiger conservation at scale. Its member organizations include IUCN, the Environmental Investigation Agency; Fauna & Flora; Panthera; TRAFFIC; the United Nations Development Programme; the Wildlife Conservation Society; and the World Wildlife Fund.
As part of its ambition to support Tiger Range Countries in realizing long-term tiger conservation, the Coalition has announced it will co-host a major conference: Sustainable Finance for Tiger Landscapes. The first-of-its-kind conference will focus on the evolving landscape in finance for nature and opportunities for investors to impact tiger conservation and recovery throughout their range. The conference, which will bring Tiger Range Countries together with donor countries, international development banks, financial institutions, the private sector, philanthropists, and other key experts and stakeholders, will be held in Thimphu, Bhutan from 22-24 April 2024.
The Tiger Conservation Coalition is an independent group of organizations having worked extensively together on major tiger assessments, including the latest assessment by the IUCN Red List of Threatened Species™ and IUCN's Green Status of Species assessment under a common vision for tiger conservation. The Coalition works with the Global Tiger Forum and Tiger Range Countries in pursuit of a world where tigers' irreplaceable contributions to nature and culture are valued and expanded, and Indigenous People and local communities are empowered to build vibrant economies around their living wildlife so that both can thrive.
Since its inception in 2014, IUCN's Integrated Tiger Habitat Conservation Programme (ITHCP) has supported Tiger Range Countries to strengthen supportive policy and sustain conservation impacts. Partnering with local civil society organizations, governments as well as international NGOs, ITCHP supports implementation of tiger recovery in India, Nepal, Bangladesh, Bhutan, Myanmar and Indonesia. Following a Species-Habitat-People approach, projects help protect tiger species, preserve habitats and support people living in and around tiger habitats: to support sustainable development gains and reduce human wildlife conflict. ITHCP is funded by the German Cooperation (BMZ) through the German Development Bank (KfW).
From August 2023, ITHCP will launch a new call for projects to expand its conservation efforts in Thailand and Cambodia. The new call will also include conservation support for leopards and clouded leopards, in addition to tigers. This expanded scope aims to address habitat conservation and the management of human-wildlife conflict related to these species. By doing so, IUCN is laying the foundation for potential tiger recovery in regions where they have experienced significant declines.
Working with the Tiger Conservation Coalition, IUCN will continue to contribute towards achieving the Global Tiger Recovery Programme and the Global Biodiversity Framework. Providing technical and policy support, as well as efforts to bridge the financing gaps, the ITHCP will continue to work with a broad range of partners to recover tigers in their range landscapes.