2015-2021 Tiger Programme impact report out now
To celebrate International Tiger Day, we are releasing the impact report of Phase I of the Integrated Tiger Habitat Conservation Programme. The report contains data and lessons learned from projects implemented in priority landscapes across six Tiger Range Countries between 2015 and 2021.
During this period, there has been an average increase of the tiger population within project sites by 40%. The Tiger Programme has also made significant contributions towards mitigating human wildlife conflicts, as there has been on average a 75% reduction in human mortality caused by tigers and leopards in three project sites.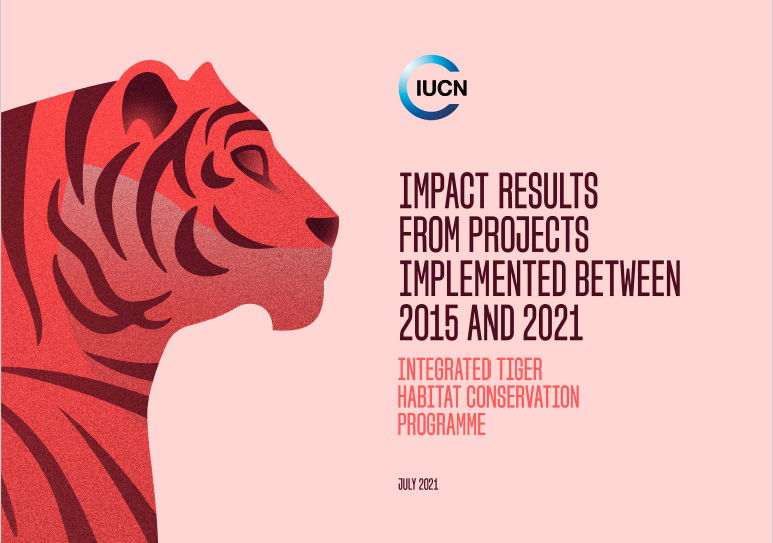 All our projects aim to not only help species, but to also improve management of the ecosystems they are part of. This is why key performance indicators have been grouped into three pillars: Species, Habitats and People.
Since 2014, we were able to provide grants to a wide range of organisations with a total investment of 20 million Euro spread across a portfolio of 12 projects. We would like to thank the German Cooperation via KfW Development Bank without whom this work wouldn't have been possible.
Sincerely, The Integrated Tiger Habitat Conservation Programme
NEXT STOP: MARSEILLE
Join us at the IUCN World Conservation Congress in Marseille this September! This year's Congress is an important step on the journey towards the 15th Conference of the Parties of the Convention for Biological Diversity (COP-15), which will tentatively take place in China this October. COP-15 will adopt the post-2020 global biodiversity framework to stop the loss of biodiversity by 2030. This Congress is crucial to create the conditions for an ambitious agreement.
Get more bang for your buck
If you are a donor or a grant-maker and want to exchange with peers on how to obtain a higher return on investment in conservation, you can join the "Getting More Bang for Your Buck" virtual session on September 6. Click here for more information.
Meet the IUCN Save Our Species team at Congress
The team will present our SOS African Wildlife, SOS Lemurs and SOS Central Asia initiatives and portfolio at the Reverse the Red Pavilion. You can attend this presentation in person in Marseille. The date for the event will be announced in August, and you can follow our LinkedIn page to get the latest updates.
LATEST FUNDING OPPORTUNITIES
Conservation Action Grants and Research Support Grants
Projects across Asia, the Pacific, Latin America and the Caribbean, Africa, and the Middle East are eligible. It is open to local Civil Society Organisations and researchers. Click here for more information and to apply.
Rapid Action Grants
As a part of our SOS African Wildlife initiative, co-funded by the European Union, Rapid Action Grants are still available for projects implemented in South Africa and responding to threats linked to the COVID-19 crisis. Click here for more information and to apply.