SOS Lemurs: Saving Madagascar's Iconic Species
More than 90% of the 113 known lemur species are facing extinction. Almost all lemur species only exist in the wild in Madagascar (only two species also occur in the Comoros). The island is, in fact, a biodiversity hotspot: over 90% of its wildlife exists nowhere else.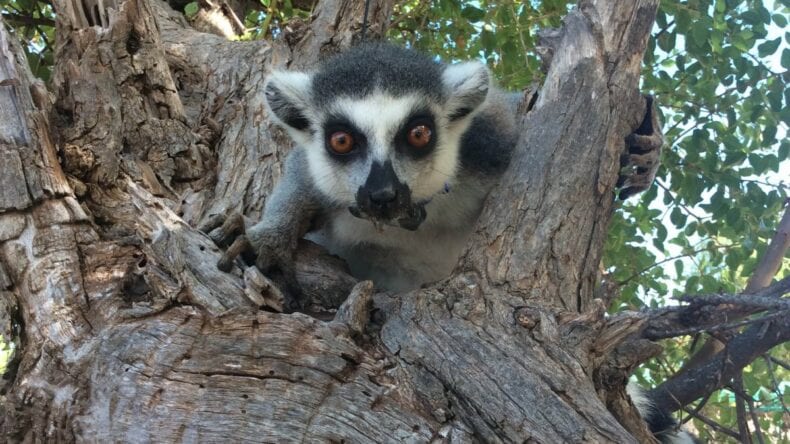 Image credit: Richard Randriamampionona
This World Lemur Day, join in the celebrations of these icons of Madagascar by donating to SOS Lemurs. SOS Lemurs is the first ever conservation initiative that has a holistic strategy for the conservation of lemur species of the island. Currently, SOS Lemurs projects are directly protecting 46 lemur species, while an additional 47 lemur species benefit indirectly from their efforts.
Why are lemurs so important to Madagascar?
Lemurs are the most threatened group of mammals on earth, yet they provide priceless ecosystem services. From an ecological perspective, they help maintain Madagascar's forests and many plant species rely on lemurs for survival. A lot of lemur species love eating fruits, however, they cannot digest the seeds. As they travel through the forest, they leave behind the seeds in their droppings, which then grow into new homes, shelter and food sources for the animals living there.
Lemurs are also culturally important to the Malagasy people. They are the subjects of many fady, cultural taboos that originate from ancient folktales and provide guidance on do's and don'ts for local people. It is, for example, fady to eat certain species of lemurs and the Indri, the largest living lemur, is believed by many to host the spirits of old ancestors.
Why are lemurs threatened?
The biggest threat to lemurs is the destruction of their homes, the forests of Madagascar. According to a conservative estimate, about 40% of the island's original forest cover was lost from the 1950s to 2000 with a thinning of remaining forest areas by 80%. This loss is driven by slash-and-burn agriculture, logging and mining, as well as firewood and charcoal production. In addition to this, lemurs are also hunted for food or sold and kept as pets.
How is IUCN making a difference to lemurs?
Since 1964, IUCN's Red List of Threatened Species has been evaluating the global conservation status of species, including lemurs. Concerned with the amount of lemur species at the brink of extinction, more than 60 lemur experts of the IUCN Species Survival Commission's Primate Specialist Group gathered in Madagascar in 2012 to assess the latest status of all lemur species and to develop an action plan for saving these unique primates.
The 'Lemurs of Madagascar' conservation strategy was published as a result. From this plan, the SOS Lemurs initiative was born with a mission to work on the priorities identified in the strategy.
To date, SOS Lemurs has funded 21 civil society organisations – many of which are local Malagasy organisations – and has driven positive outcomes for 82% of the known lemur species. Projects have done this through actions such as:
Planting over 2million trees that will ultimately become new homes for lemurs and other species;
Establishing a phone line that people can call anonymously to report wildlife crime against lemurs;
Helping 368 households to practice rice intensification techniques as an alternative to slash-and-burn agriculture.
The strength of SOS Lemurs projects is that they also contribute positively to the communities living alongside lemurs, focusing on actions such as:
Developing reforestation programmes and tree nurseries, often run by or supported by local communities;
Implementing Lemur education in schools to allow a new generation of Malagasy people to learn more about their native species and creating awareness raising events;
Working with Malagasy communities to ensure their use of the forest is sustainable, for example by improving agricultural methods, and by developing alternative livelihood options;
Completing Lemur surveys, implementing forest patrols and training local guides;
Building local communities' capacity to protect lemurs and benefit from their conservation through initiatives such as ecotourism, which will create revenue streams for the community and job opportunities for local people.
Every fall, World Lemur Day is celebrated locally and internationally offering a great opportunity to engage local communities in lemur conservation and raise awareness of the importance of protecting lemurs globally. Join in the World Lemur Day celebrations by donating to SOS Lemurs today.