Spotlight on a Species Saver: Evans Nsende
As human populations boom across the African continent, it has become ever more essential to provide remnant wildlife populations with a connecting landscape between fragmented protected areas.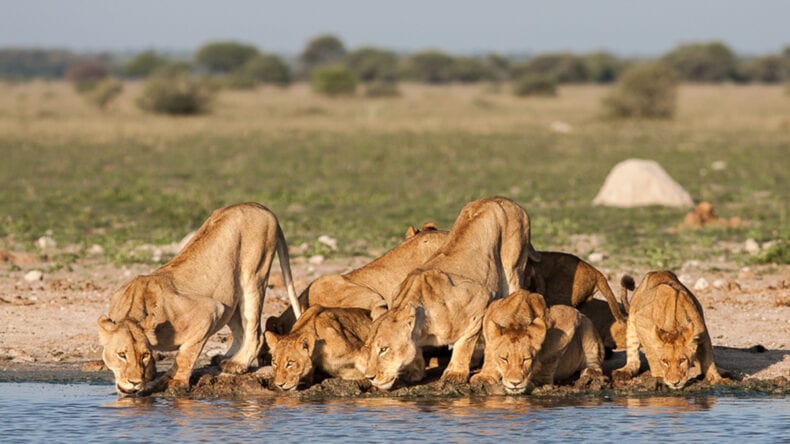 Image credit: Dominik Bauer
For Evans Nsende, project manager with Keeping Kafue in the KAZA TFCA, (Kavango-Zambezi Transfrontier Conservation Area) this is a clear and present truth.
Ensuring connectivity between the Kafue National Park and the vast KAZA is work implemented by IUCN Member Zoological Society of London (ZSL) as part of the SOS African Wildlife initiative. While this is a challenging project, growing up in the region gives Evans valuable insight into practical conservation solutions that can help achieve those goals for species, habitats and communities.
And while the umbrella species concept may provide a useful tool to allow for maximum impact of limited conservation funding, it is also critical that outreach work helps transcend other boundaries – both physical and cultural, he advises.
Born in the Copperbelt Province of Zambia, Evans, who is also a qualified teacher, studied Wildlife Management at the Copperbelt University following a childhood filled with nature encounters. Before joining ZSL in May 2019, he had built a career working with the governmental Department of National Parks and Wildlife and several conservation NGOs active in the country. During this time, Evans became convinced that successful conservation in the African context is only possible by supporting local communities to live alongside wild animals while creating wildlife-based income opportunities.
Today he works in close collaboration with the traditional leadership of several Zambian communities and the Zambian Department of National Parks and Wildlife to help achieve the project's goals. An initial focus aims to make the proposed Inyasemu Community Conservancy link Greater Kafue National Park in Zambia with the core carnivore population of the Kavango-Zambezi Transfrontier Conservation Area (KAZA TFCA). "This will be realised by creating a connecting landscape through Bombwe, Simalaha and surrounding areas to Chobe National Park in Botswana", Evans explains. The proposed conservancy will also generate alternative livelihood options for these marginalised rural communities. Such a connected landscape is a potential habitat for threatened large carnivorous umbrella species like Leopard, Cheetah, Wild dog and Lions. As Evans elaborates:
Existing ecological knowledge shows that large carnivores are necessary for the maintenance of biodiversity and ecosystem functions. Conserving threatened large carnivores distributes ecosystem services and goods through direct and indirect pathways that maintain other species' abundance and richness for ungulates, birds, invertebrates, and reptiles. Furthermore, because large carnivores have large home ranges, conserving them helps reduce habitat fragmentation for other species.

Evans Nsende, project manager with Keeping Kafue in the KAZA TFCA
Indeed the transboundary dimension to the project presents considerations of a human nature too. Transboundary conservation of natural resources not only means working across international state borders. It may also include traditional boundaries between chiefdoms, where cross-border collaboration is not necessarily a given. As such, being welcomed to Nyawa chiefdom was an encouraging development at this early stage in the project. Jubilant dances and songs which also praised the traditional leaders in partner communities celebrated the project's focus on cross-community engagement. "These communities are setting an example by committing to work together, regardless of their chiefdom boundaries, to explore opportunities to establish the joint Inyasemu Community Conservancy", says Evans, underlining the significance of the event.
Following a successful visit and discussions for next steps, the project team is looking forward to spending time with these communities over the coming weeks to explore potential options for the new conservancy while developing their ideas as to how it could take shape.