New IUCN Save Our Species webinar!
The biodiversity policy to on-the-ground conservation action pipeline is quite clear, but what about the other way around? Can projects on the ground actually inform policy? This is the question that our latest webinar will attempt to answer.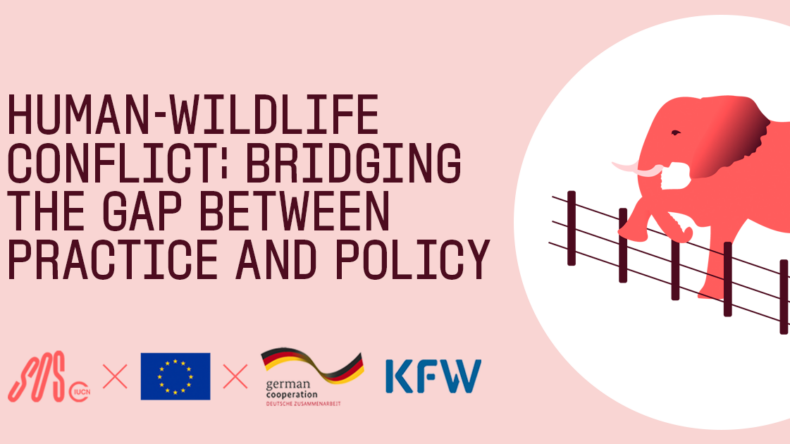 Effective biodiversity policy is fundamental for a conservation project to be successful. One of the three aims of the Convention on Biological Diversity (CBD) is the conservation of species. Out of 21 targets in the First Draft of the Post-2020 Global Biodiversity Framework, Target 4 explicitly mentions human-wildlife conflict management while it is implied in others. At upcoming COP 15 in Montreal this December, human-wildlife conflict is expected to be discussed at length as pundits argue that further negotiating and revising the wording of these targets will lead to more effective conservation action on the ground, ultimately resulting in improved human-wildlife conflict mitigation.
Human-wildlife conflict: bridging the gap between conservation and policy
Thursday, 24 November 2022 via Zoom
10:00 – 11:30 AM CET
The webinar will be in English, translated into French.
As conservation programmes, IUCN Save Our Species and the ITHCP find themselves at the nexus between conservation action on the ground and policy. By drawing from lessons from the field and data generated by our grantees, this webinar intends to discuss how conservation can influence policy in regard to human-wildlife conflict. The link between policy and conservation action should be a two-way street, and our inputs should matter as we are in a unique position to provide invaluable insights. Consequently, our ultimate aim is to create a dialogue that will contribute to the generation of the Post-2020 Global Biodiversity Framework's final targets.
Agenda
Dr Alexandra Zimmermann, IUCN SSC Human-Wildlife Conflict & Coexistence Specialist Group Chair
Ana Nieto, Head, Species Conservation Action Team, International Union for Conservation of Nature (IUCN)
"Human-Wildlife Conflict and the Post-2020 Global Biodiversity Framework"
Dr Alexandra Zimmermann, IUCN SSC Human-Wildlife Conflict & Coexistence Specialist Group Chair
"Managing Human-Lion Conflict in Kunene Region, Namibia"
Russell Vinjevold, Integrated Rural Development and Nature Conservation
"Protecting tigers, people and their vital habitats in the Sundarban Delta in India and Bangladesh"
Dr. Medha Nayak, Wildlife Trust of India
"Managing Human-Elephant Conflict in Zambia"
Dennis Zimba, Zambian Carnivore Programme
This webinar is created with the financial support of the European Union and The German Cooperation via KfW Development Bank. Its contents are the sole responsibility of IUCN and do not necessarily reflect the views of the European Union, The German Cooperation or KfW