Integrated Tiger Habit Conservation Programme workshop, 28-31 October 2017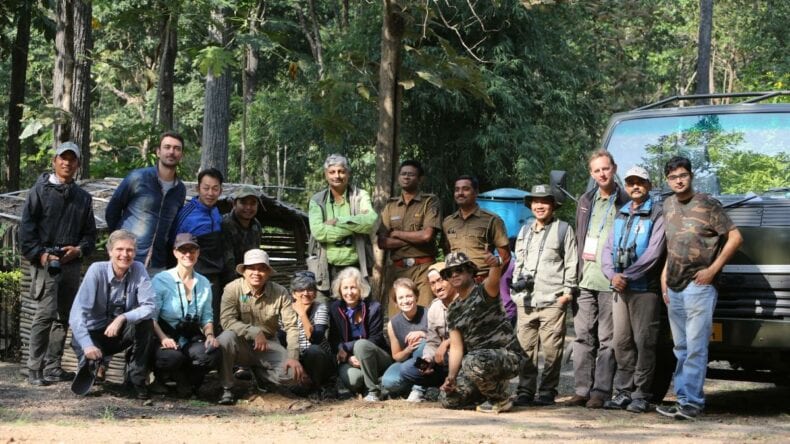 Image credit: Renaud Fulconis/Awely
ITHCP midpoint meeting: tiger conservationists from around the world come together in Maharashtra, India, to showcase achievements and discuss challenges
Tigers are in deep, deep trouble and need our help. They are listed as Endangered on the IUCN Red List of Threatened Species™. Once they ranged from Turkey to China and throughout Southeast Asia, but today they inhabit only 6% of this historic range. Originally there were nine subspecies, but three (maybe four) of these are extinct. Only about 3,160 tigers survive in the wild. Continuing threats to tigers include habitat loss, poaching, and conflict with humans.
Good news is that organizations and governments around the world are fighting to save the tiger. For example, in 2010 in St Petersburg, the 13 remaining Tiger Range Countries initiated the Global Tiger Recovery Program, agreeing to work together to increase the number of tigers. Here at IUCN, together with our partners in the German Government and KfW Development Bank, we help to save tigers through our Integrated Tiger Habitat Conservation Programme (ITHCP), founded in 2014. Currently the ITHCP supports projects in India, Nepal, Bhutan, Myanmar, and Indonesia with grants between € 500,000 to € 2,000,000 to NGOs, government departments, and local community organizations. An integral part of ITHCP's mission is to support people living in tiger habitats, by offering grants, economic opportunities, and healthy, sustainable alternatives to hunting and habitat destruction.
Now that the ITHCP has run for more than three years, it's time to take stock of its achievements and look at remaining challenges. That was the purpose of the ITHCP's first Grantees Workshop, from 28-31 October in Sillari inside the Pench Tiger Reserve in Maharashtra, India – famous as the setting of Rudyard Kipling's Jungle Book. Among the 80 participants: people from KfW and IUCN, experts from the Species Survival Commission and ITCHP's Programme Advisory Committee, representatives from 13 grant recipient organizations, and invited guests.
Each day focused on a theme: tiger conservation itself, including ant-poaching measures and resolving human-tiger conflict; habit conservation, including landscape management and infrastructure for protected areas; and local communities, including providing jobs and alternative economic resources. Each day featured a round-table discussion where participants identified remaining challenges and surprises they had encountered over the course of their conservation project.
Part of the workshop was devoted to presentations by grant recipient organisations, in which they showcased some of their achievements to date. Some examples:
The Indian NGO Nature Conservation Foundation has developed an intuitive smartphone app for its forest staff to identify species and report on poaching and wildlife trade activities.
WWF is restoring a nature corridor on the Nepal-India border, which will allow tigers to move freely between Chitwan National Park, Parsa Nature Reserve, and Valmiki Tiger Reserve.
The Maharashtra Forest Department (India) helps people in over 200 villages with provide safe sanitation facilities to reduce forest incursion (when people, especially women, have been shown to be at greater risk from tiger attacks), LPG stoves to reduce the reliance on firewood, and solar-powered electric fencing and street lights to keep tigers out of villages.
The Awely Wildlife and People Foundation dedicated "Green Caps" teams are at work in India and Nepal, promoting alternative economic activities for local people to reduce their dependence on natural resources, through micro-enterprise training, microfinance, and the development of sustainable infrastructure.
The Zoological Society of London partnered with local organizations including the Nepal Tourism Board to help families in buffer zones around protected areas to set up homestay B&Bs as a sustainable alternative economic activity.
The Indonesian NGO Imbau, together with WWF, Yapeka, and Indecon, are helping communities near Rimbang Baling Wildlife Reserve on Sumatra to develop sustainable livelihoods such as fisheries, rubber exploitation, and ecotourism. Another project is their community radio channel for the broadcasting of education, local culture, sustainable development initiatives, and peace messages.
The meeting showcased amazing example of creative solutions to tiger conservation challenges. What was really interesting was that these were not just in the field of action for the species but covered the co-benefits for local communities and development. The grantees, most of them young professionals from the range state countries, were highlighted case studies which benefit both wildlife and local people

Dr Jane Smart, Global Director of the IUCN's Biodiversity Conservation Group.
"This event in Pench was very successful. It brought together all the projects that are running under the ITHCP from across 6 countries, and enabled everyone to share experience and knowledge. It brought together a melting pot of different expertise, ranging from tiger ecology and anti-poaching to human-wildlife conflict and working with local communities to develop alternative livelihoods. Above all else, it brought together the people working on some of the most important frontlines of conservation. I hope everyone got a lot from the meeting, from the different topics that fall within the 3 pillars of the programme, species conservation, habitat management and working with communities. I also hope some firm friendships have been forged and I am proud to work with such a passionate, energetic and dynamic group of people," says Dr Sugoto Roy, Coordinator of the ITHCP.
IUCN Save Our Species congratulates our grant recipient organizations on their achievements, and we look forward to another successful year for the ITHCP and its partners!