Counting the Riches on Treasure Island
Why is a Red Listing Assessment Workshop so critical to the long-term survival of lemurs?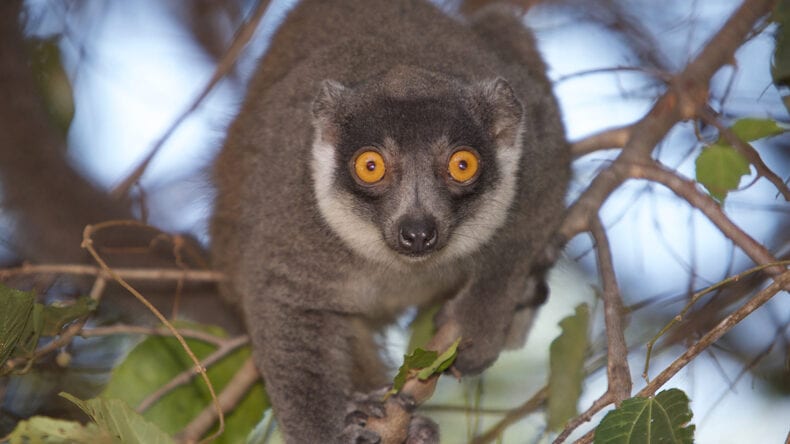 Image credit: Travis Steffens
When someone mentions 52 conservation professionals met up in Madagascar to work on lemurs one could be forgiven for imagining wonderful encounters in magical rainforests.
Far from it – as those who have participated in one will testify – any Red Listing Workshop represents long days shuttered in a meeting room with volumes of books, papers, maps, laptops, questions and other people. And with 113 species – most of which tread unknowingly along the edge of extinction – there is a lot of work to review the conservation status of Madagascar's lemurs. "An assessment provides a baseline to help inform conservation priorities and measure results" explains participant Dr. Sylviane Volampeno, Programme Officer with IUCN Save Our Species, "it had been 6 years since the last assessment and much has happened since".
Primatologists are a determined bunch and after five days this workshop delivered a revised baseline on the status of all known lemur species. To gain time, smaller groups focused on different lemur families such as the Sifakas, Eulemur, Hapalemur, mouse, Cheirogalus and Sportive lemur species. Data were collated and threat categories suggested for final review by the IUCN Red List Unit. Once validated, IUCN will officially announce the results of the assessment including any changes in threat status later in 2018.
Workshop participants also made recommendations on adding 10 new geographic priority sites to the Lemur Conservation Strategy which aligns with the SOS Lemurs initiative. This brings to 40 the total number of sites where coordinated actions could help save lemurs from dramatic habitat loss, opportunistic poaching and other extinction pressures. Currently IUCN Save Our Species is funding work in 16 sites across Madagascar.
Meanwhile and although conservation actions have ramped up in recent years including projects supported by IUCN Save Our Species, extinction pressures are in fact increasing for all lemurs. At the workshop, stories of people poaching lemurs from protected areas, eating lemurs or incidents of newly deforested lands were trumped only by news of a mysterious disease so far killing a dozen Verreaux's Sifaka (Propithecus verreauxi ) in south central Madagascar.
Disease aside, many extinction pressures are driven by large scale socio-economic forces that affect Malagasy communities daily in terms of livelihood options, education and health quality, food availability and sustainable natural resource management. Indeed the value of lemurs to the country's growing tourism industry is captured in the Madagascar's Ministry of Tourism's latest campaign inviting visitors to "Treasure Island" – a country that offers incredibly rich and accessible primate-watching experiences to all travelers.
This interconnectedness of Madagascar's challenges and opportunities underlines the critical role of an evidenced-based approach to conservation. That begins with effective Red Listing which in turn informs coordinated actions through initiatives like SOS Lemurs fundingprojects that integrate benefits for species, habitats and communities into their design.
This process contributes to IUCN's work supporting the 17 UN Sustainable Development Goals in a very real and practical way, especially goal 15 – life on land. Up to date Red Listing helps set the baseline for that journey providingthe compass for the voyagers to Treasure Island and beyond.