Tigers Beyond Borders: Partnering for Success in the Terai Arc Landscape
If we want a world with tigers we must act now. The urgency is clear in the Terai Arc Landscape of Nepal and India, a globally significant tiger landscape supporting an estimated 17% of wild tigers explains Gitanjali Bhattacharya and colleagues at the Zoological Society of London (ZSL), a grantee with IUCN-KfW's Integrated Tiger Habitat Conservation Programme (ITHCP).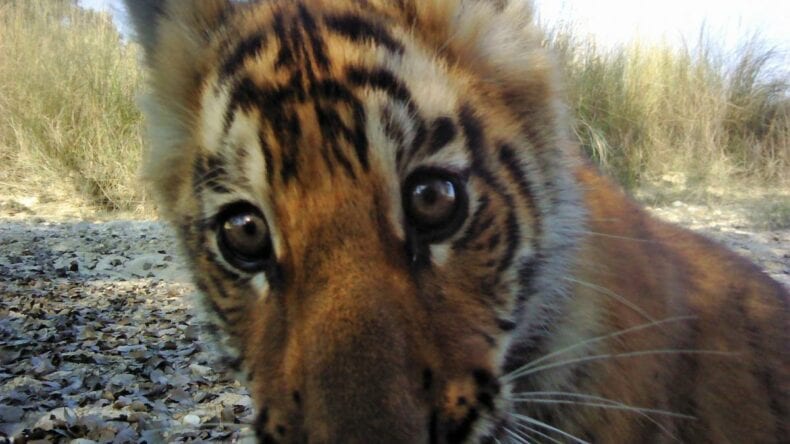 Image credit: DNPWC / NTNC / Panthera / ZSL
But the tiger population here is severely depressed due to sharing the landscape with one of the densest human populations on earth, which continues to grow, and increase its demand for resources and land. Human-tiger conflict is escalating as the competition for scarce resources in an increasingly crowded landscape intensifies. Similarly, poaching pressure is intense, as the global illegal wildlife trade continues to drive high prices for a wide range of tiger body parts.
Given the transboundary and multifaceted nature of these threats to tigers, we must also act together. With the support of the ITHCP, ZSL has galvanised collective action for the tigers of the Terai Arc. A transboundary conservation partnership was launched bringing together Indian and Nepalese government departments, local communities, protected area management authorities, expert scientific research institutions from both countries and a diverse selection of other partners such as the Nepal Army and Nepal Tourism Board who bring critical skills and experience to the cause of tiger conservation.
Our unique conservation partnership has laid foundations for ongoing transboundary cooperation and has already helped drive tiger population recovery in the landscape. We have seen a 40% increase in the tiger population since 2013 across the project's focal protected areas in Nepal. In India, early indications of tiger population growth are equally positive.
This has been achieved through utilising the combination of expertise offered by our partnership to strengthen anti-poaching initiatives and wider protected area management – including training around 1,700 protected area and law enforcement staff. Anti-poaching 'Rapid Response Teams' established by our partnership in 5 project sites made 70 arrests in 2016-17, including the interception of transboundary poachers. Intruder arrests in Nepal project sites increased by 60% since 2016. Supplementary community-led anti-poaching patrols covered an additional 1,000km2 area since 2016.
Our partnership has also supported the mitigation and prevention of human-tiger conflict. We have implemented direct measures such as constructing 250 predator-proof corrals and 11 early-warning systems and facilitating communities' access to human-wildlife conflict relief funds. We have also supported communities to pursue sustainable livelihoods, which both improve their wellbeing and reduce their pressure on natural resources. We have established 5 homestays, trained nearly 500 community members in sustainable livelihood skills, and supported the establishment of 13 soft-loan facilities to enable long-term sustainable development.
It has been wonderful to see tiger conservation benefiting local people. An example is the story of Rabindra Chaudhary, a member of the indigenous Tharu ethnic group, living in the buffer zone of Suklaphanta National Park, Nepal. Having received driver training through the project he now drives a rapid response vehicle within the protected area to help intercept poachers and protect tigers, and so makes a living from conservation. At ZSL we would say he 'works for wildlife'!