Time to Scale Up Freshwater Conservation Action
The fundamental importance of conserving freshwater biodiversity cannot be underestimated. According to IUCN, over 140,000 described species - including 55% of all fishes – rely on freshwater habitats for their survival.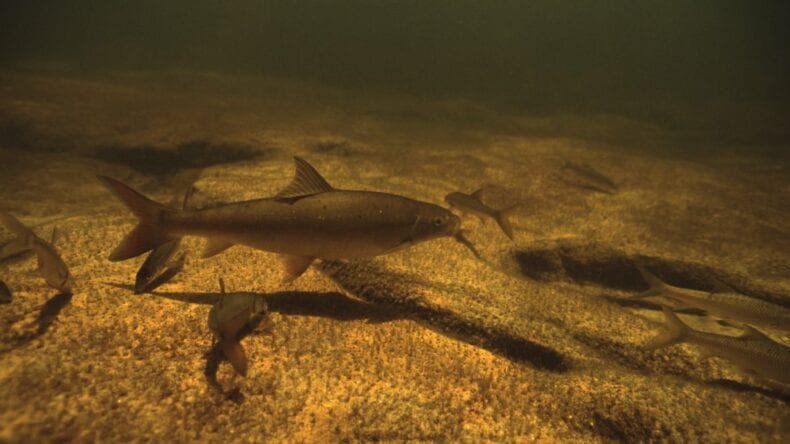 Image credit: Tom Peschak
Freshwater species, including the 18,000 known freshwater fish species, are important to local ecosystems, provide sources of food and income to humans and are key to flood and erosion control.
As such, the perilous state of freshwater fishes as further revealed by the most recent update to the IUCN Red List of Threatened Species™ underlines the need for coordinated conservation action. And while people may initially think of fish, freshwater ecosystems are home to plants, invertebrates, mammals, birds, reptiles and amphibians, not to mention myriad microscopic life forms. As William Darwall, Head of the IUCN Freshwater Biodiversity Unit observed:
To halt these declines, we urgently need policies on the human use of freshwaters that allow for the needs of the many other species sharing these ecosystems.

William Darwall, Head of the IUCN Freshwater Biodiversity Unit
The urgency of the situation cannot be overstated: freshwater species are going extinct more rapidly than terrestrial or marine species, yet their plight has so far not received the same attention in international policy negotiations, which tend to focus on the management of water resources for human use, rather than for biodiversity conservation. The extinction of freshwater species is being driven by the loss of free flowing rivers, habitat degradation, pollution, over-harvesting, and invasive species. The continued growth in human populations is only likely to exacerbate pressures, and requires a global response that builds on such policies. In this vein, Dr. Jane Smart, Director of the IUCN Global Species and Key Biodiversity Areas Programme, commented:
Decisive action is needed at scale to halt this decline; the timing of this assessment is critical as governments are starting to negotiate a new global biodiversity framework for such action."

Dr. Jane Smart, Director of the IUCN Global Species and Key Biodiversity Areas Programme
In some ways, the decline of freshwater biodiversity including freshwater fish species is a silent slide toward extinction. There are so many other species conservation priorities vying for financial support that freshwater biodiversity conservationists face a complex challenge to enhance synergies and reduce competition for limited funding. The IUCN Freshwater Biodiversity Unit has worked to systematically assess, monitor and report on the status of a range of freshwater systems across the world since 2001. In coordination with various key Specialist Groups in the IUCN Species Survival Commission, the unit has built a uniquely intricate and practical expertise about the key issues, trends and priorities that would inform a high-impact global initiative.
Leveraging this knowledge into action, approximately ten percent of the portfolio of IUCN Save Our Species conservation action projects launched since 2012 have targeted freshwater species – 19 in total including 10 Critically Endangered ones. This freshwater subset of the portfolio represented an investment of almost $750,000 in species including fish, invertebrates, reptiles, amphibians and aquatic mammals in 10 countries across Asia and Africa, including six protected areas and even two World Heritage sites.
This diversity combined with the fact that about 40% of those projects was awarded emergency grant funding through IUCN Save Our Species' Rapid Action Grants facility speaks to two points relevant to this week's Red List update. Firstly, that there is the urgency element as highlighted by Dr. Jane Smart and secondly that there is a broad demand for freshwater biodiversity conservation funding from civil society organisations in many regions. IUCN Save Our Species has awarded freshwater grants to 10 different NGOs working in 10 different countries at the nexus of species, communities and habitats by delivering grassroots conservation solutions.
Indeed engaging communications play an important role to generate further support. For example these 10 projects include one targeting the Critically Endangered Burmese Roofed Turtle (Batagur trivitatta) in the Chindwin River, Myanmar. This was a project funded thanks to a collaboration with Lacoste running from 2018-2020. The most recent campaign in that collaboration featured two other freshwater dependent species: the Cebu Damselfly (Risiocnemis seidenschwarzi) and the Opal Goodeid (Allotoca maculata) – an endemic fish of Mexico – both Critically Endangered. Inspiring communications tied to scientific conservation priorities may not be the magic bullet, but it can help generate the popular support donors in the private sector find appealing, giving a voice to species in need of conservation.
In short, this cumulative experience within the IUCN Global Species Programme, and conservation NGOs working on the ground, can be harnessed to better effect through a regional and eventually even a global freshwater biodiversity initiative.
Given many freshwater ecosystems such as lakes and rivers are transboundary, this presents an excellent opportunity to build a scalable initiative that helps promote coexistence over conflict concerning a common heritage – the world's freshwater and the species that depend on it.