Register now to attend our next webinar!
This latest webinar aims to promote peer-to-peer learning among our grantees and other practitioners within and across regions.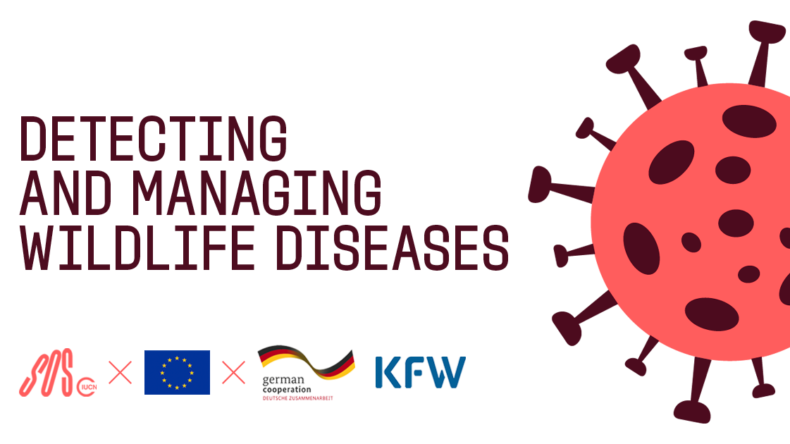 Using the personal experience of our grantees in the field, in addition to the expert knowledge of the IUCN Species Survival Commission Wildlife Health Specialist Group, the objective of this webinar is to enable practitioners to enhance their work by enabling them to further develop their conservation activities to incorporate disease surveillance and management.
Detecting and managing wildlife diseases
Thursday, 2 June 2022 via Zoom
10:00 AM – 12:00 PM CEST
The webinar will be in English, translated into French and Russian
By sharing lessons learned and first-hand knowledge, this session will focus on how species conservation can be enhanced by improved disease control, as well as how science and day-to-day conservation activities can form a first line of defence against the emergence of zoonotic diseases.
Another goal of this webinar is to offer participants a chance to have their questions answered by a panel of skilled conservationists and scientists. To that effect, we are inviting participants to send us any questions they might have on this topic to anne.mugo@iucn.org by May 31.
Over the last six decades, 43% of human emerging infectious diseases from all sources had wildlife origins. Wildlife diseases are also one of the main threats to the survival of many threatened species. Preventing and effectively managing them are crucial factors to safeguard biodiversity and ensure human health.
Lisez cet article en français
Lea este artículo en español
Agenda
Dr. Tiggy Grillo, IUCN SSC Wildlife Health Specialist Group Co-Chair
Chief Operating Officer and National Coordinator at Wildlife Health Australia (WHA)
Ana Nieto, Head, Species Conservation Action Team, International Union for Conservation of Nature (IUCN)
"Overview on managing wildlife health"
Dr. Tiggy Grillo, IUCN SSC Wildlife Health Specialist Group Co-Chair
Chief Operating Officer and National Coordinator at Wildlife Health Australia (WHA)
"Preventing Pandemics: ASF in wild pigs and the conservation implications in Asia"
Dr. Matthew Linkie, Deputy Director, Wildlife Conservation Society (WCS) Indonesia Programme
"Conservation of elephant and the biodiversity around Victoria Falls, Zimbabwe during COVID-19 crisis"
Dr. Chris Foggin, Wildlife Veterinarian, Victoria Falls Wildlife Trust
"Importance of wildlife health for successful conservation projects: lessons learnt from Kazakhstan"
Steffen Zuther, Research fellow
Frankfurt Zoological Society/Association for the Conservation of Biodiversity of Kazakhstan
"How reducing wildlife disease risk supports one health approaches"
Dr. Catherine Machalaba, Member of the IUCN SSC Wildlife Health Specialist Group
Principal Scientist for Health and Policy, EcoHealth Alliance
"Understanding barriers & missed opportunities"
Dr. Stuart Patterson, Member of the IUCN SSC Wildlife Health Specialist Group
Associate Dean for Postgraduate Teaching and Learning, Royal Veterinary College, University of London
This webinar is created with the financial support of the European Union and The German Cooperation via KfW Development Bank. Its contents are the sole responsibility of IUCN and do not necessarily reflect the views of the European Union, The German Cooperation or KfW