Early Success for #LacosteSaveOurSpecies Funded Burmese Roofed Turtles Project
23 MAY, UPDATE: Another 46 Burmese Roofed Turtle hatchlings arrived just in time for World Turtle Day! Another great success for this Critically Endangered species and the project.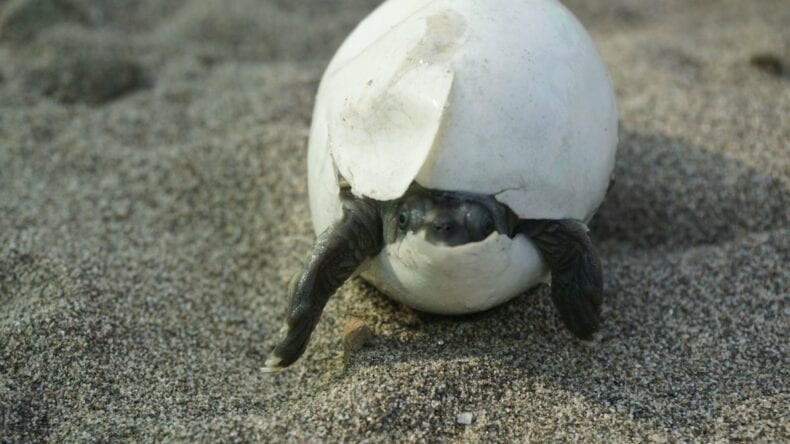 Image credit: Turtle Survival Alliance/Wildlife Conservation Society
21 MAY, ORIGINAL STORY:
In the midst of the countdown to the second #LacosteSaveOurSpecies campaign on 22 May 2019, IUCN Save Our Species has awarded the first grant in its collaboration with Lacoste. This two-year project will support Burmese Roofed Turtle conservation in Myanmar.
The Critically Endangered Burmese Roofed Turtle (Batagur trivittata) was featured in the first #LacosteSaveOurSpecies campaign in 2018 alongside nine other threatened species. It replaced the iconic Lacoste crocodile on just 40 limited-edition polos; the estimated number of individuals remaining in the wild at the time of the campaign.
The Burmese Roofed Turtle is a keystone species in the larger rivers of Myanmar, however, loss of nesting habitat and illegal harvesting of eggs have reduced its numbers drastically. With less than ten females remaining in the wild – all in just one population – action is needed to help ensure the survival of this culturally important species.
Following a Call for Proposals open to projects targeting any of the ten species featured in the #LacosteSaveOurSpecies 2018 campaign, a grant was awarded to the Turtle Survival Alliance to support the restoration of the Burmese Roofed Turtle to the Chindwin River in Myanmar.
The project focuses on recruiting juvenile turtles into the wild population both by introducing captive-bred turtles and by protecting and incubating eggs laid by the remaining wild female turtles.
Early success has already been achieved, with five little hatchlings arriving in mid-May and more expected in the following weeks. With so few remaining in the wild this is an important milestone for the conservation efforts of the Burmese Roofed Turtle. Steven G. Platt, Project Team Member, said:
With every hatchling that emerges from the nest, we are slowly pulling the Burmese Roofed Turtle back from the edge of the extinction abyss.
In addition to funding priority conservation actions, the partnership between IUCN Save Our Species and Lacoste also demonstrates how businesses can help increase awareness and engagement in species conservation among the general-public while supporting business objectives.
With the launch of the 2019 #LacosteSaveOurSpecies campaign, IUCN Save Our Species and Lacoste hope to inspire even more support for threatened species. With additional financial investment, IUCN Save Our Species can increase funding for conversation action for other threatened species such as those featured in the 2019 campaign, which runs 17 – 22 May 2019.
Visit the project profile to read more about the work to save the Burmese Roofed Turtle in Myanmar.