Education as a Tool for Tiger Conservation in India
The IUCN Integrated Tiger Habitat Conservation Programme (ITHCP) has supported the creation of the recently inaugurated Holematthi Nature Information Centre near Malai Mahadeshwara Wildlife Sanctuary (MMWS), India. On-the-ground work has been carried out by the Nature Conservation Foundation, an ITHCP grantee.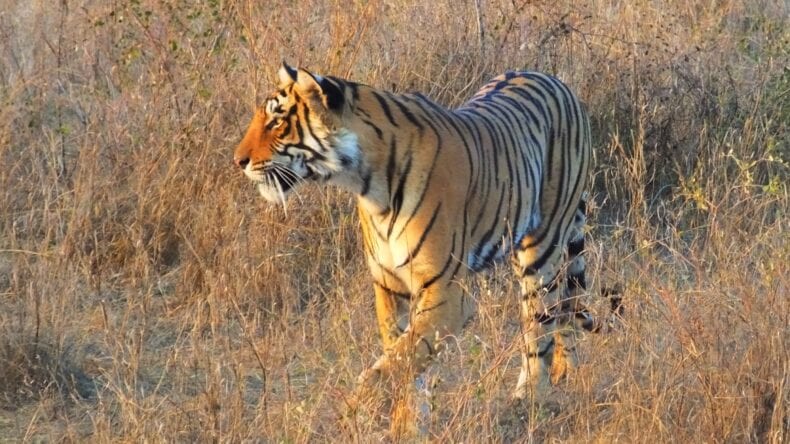 Image credit: Jimena Montané
Developed from an abandoned building in the rural location of Kollegal taluk, the centre is the brainchild of Sanjay Gubbi, a wildlife scientist and conservationist. Its principal aim is to safeguard tigers and protect their habitat, through the sharing of knowledge about the local environment.
The facility hosts details about regional flora and fauna and the different kinds of wildlife habitats, such as the deciduous and semi-evergreen forests which are found in the MMWS. There are also activities developed specifically for children, including interactive games and jigsaw puzzles.
The use of artwork to convey these messages is a particular feature of the centre, and murals depicting animals, landscapes, threats to wildlife, and information about relationships between insects and plants are all on display here. Several artists were commissioned to carry out the work and the end result has been extremely well-received by officials and locals alike. R. Dhruvanarayana, Member of Parliament for Chamarajanagar, said "The area is home to two tiger projects — the Biligiri Rangaswamy Temple Tiger Reserve and Bandipur Tiger Reserve and two wildlife sanctuaries — Cauvery and Malai Mahadeshwara. So, efforts at conserving nature and wildlife are especially important here".
The centre's primary audience is local residents and it is the first of its kind in the state, developed purely with local communities and species in mind. It also highlights location-specific problems and it is hoped that it will bring awareness to communities, school and college students, members of elected bodies, media, pilgrims and others. Eshwar, a member of the village council, says, "We get most of the daily supplies from the forest and we want to save it for our future generations, so we have to engage in conservation efforts."
Click here for more information on the Integrated Tiger Habitat Conservation Programme.